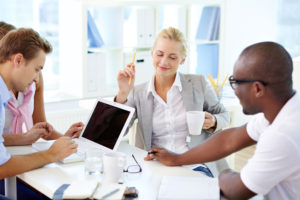 Our healthcare project management team has many years of experience in helping clients identify and resolve operational constraints and oversee patient care quality and organizational culture improvement initiatives.
We employ PMP-certified consultants with a proven track record of timely project completion.
Our consultants can help you clarify and document objectives and purpose of your project in a format that appeals to each stakeholder group (physicians, nursing, allied health, regulatory authorities, plant services). We will then design and cost out the project management plan that fits your budget and time frame, and will include a detailed program/project evaluation matrix to assist with ongoing performance monitoring. Depending on your company's needs, our consultants can then oversee every stage of your project implementation and conduct independent performance audits or train key stakeholders within your company to fulfill that role.
Our areas of expertise include:
Workspace remodelling/ clinical facility design
Change in workflow/ work processes
Risk management/ emergency preparedness
Lean management initiatives
Standardization of work processes
Internal policy review/ revision
Preparing facility for accreditation/ structuring audits
Organizational performance evaluation/ recommendations for improvement
Organizational culture evaluation/ improvement